20 The Countdown Magazine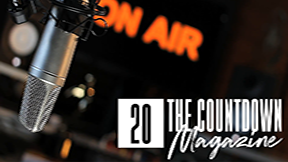 20 The Countdown Magazine is a 2-hour magazine-style syndicated radio show that counts down the top 20 Christian songs each week. Hosted by William Ryan, III, it's the longest-running Christian music countdown show in the World! It features behind-the-scenes Christian music news, artist interviews, the Top 20 biggest songs of the week, and features such as the 'Future Fan Favorite' where you get to vote for your favorite song!
20 The Countdown Magazine was originally launched by the legendary Jon Rivers in 1985 and William began hosting the show in the fall of 2019 after Jon's retirement. William met Jon in 1998 while working at KLTY-FM in Dallas, TX where they ended up doing the morning show together for several years. Jon hired William to produce his morning show when William was fresh out of high school and taught him all about Christian music and radio programming. They remained close friends even after Jon left KLTY around 2001 to work for another Christian radio station/network.